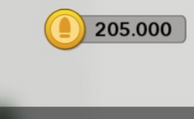 .
At the top right corner You can view Your current balance in coins.
You can use coins to purchase defense cards and profile icons in the game. You can use up to 3 purchased defense cards per game. A unused purchased defense card can be used in another game.
You can also earn coins by the following activities:
Complete turns
Complete games
Recruit friends
Post Victory screen in Facebook & Instagram
Invite Facebook players
 Purchase Coins
 You can also purchase coins in the shop section in the main screen.